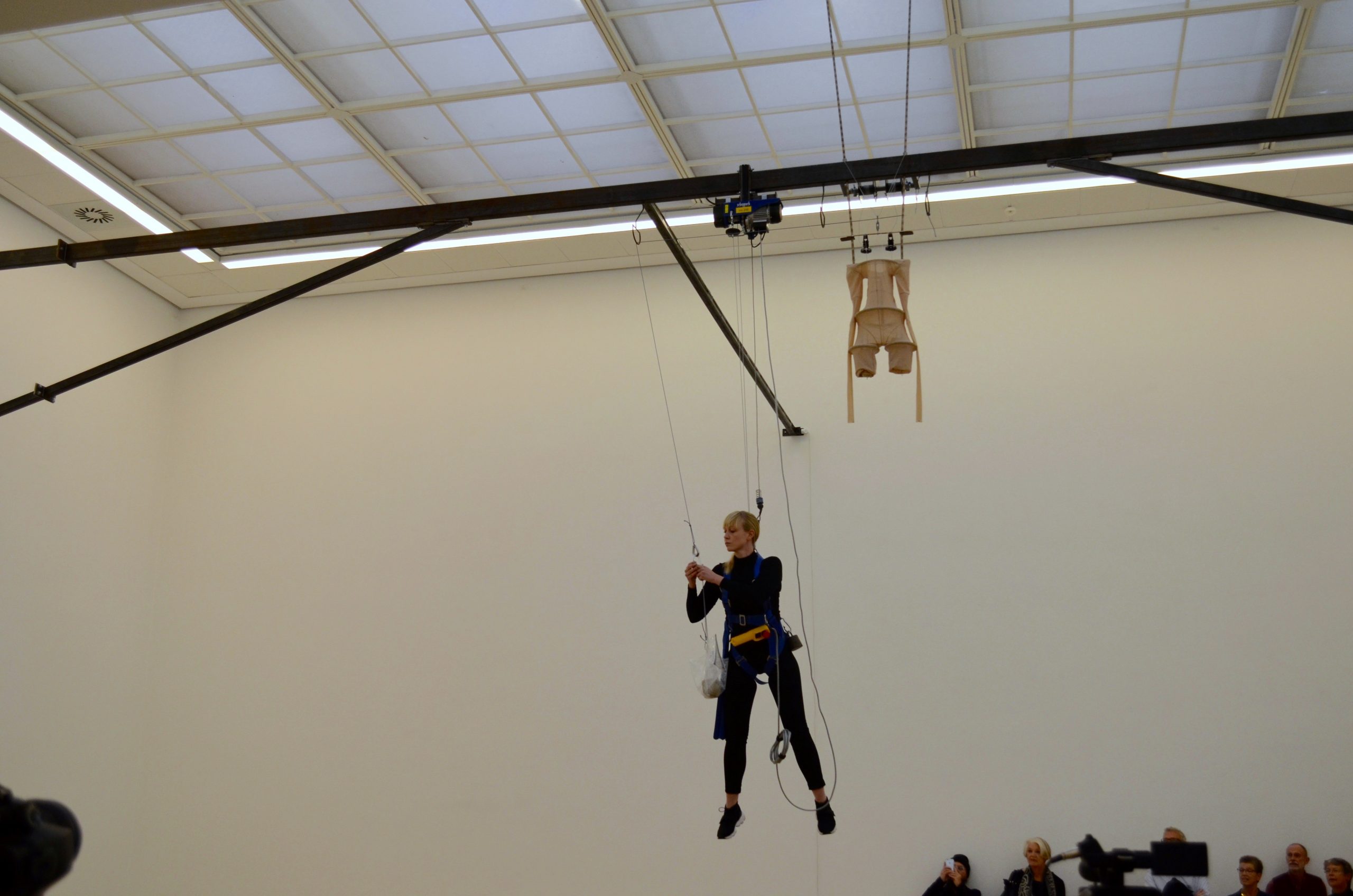 In neutral equilibrium, 2016
Solo presentation of In neutral equilibrium, Årets Kunstnerpris 2016, Horsens Kunstmuseum, Horsens, DK

Video documentation of first rehearsal, In neutral equilibrium, Degree show, 2016, Kunsthal Charlottenborg, Copenhagen, DK:
Video, sound and lighting: William Andreas Wivel, Søren Rye & Bjarke Jepsen
About In neutral equilibrium (in Danish):
Christine Overvad Hansen arbejder i krydsfeltet mellem skulptur og performance.
I sin kunstneriske praksis udforsker og diskuterer Overvad Hansen emner, som rum, sted, krop, køn og seksualitet.
Udover de traditionelle billedhuggermaterialer; bronze, ler, gips og aluminium, som Overvad Hansen ofte kombinerer med materialer, som tekstil og plast, indgår Overvad Hansens egen krop, som instrument for en performativ handling i en række af hendes skulpturelle værker.
Centralt i værket 'In neutral equilibrium' strækker en stof-figur sig som en søjle op gennem rummet. Figuren formes af det underliggende bronze-armatur, som tog sin endelige form; balancerende på de to bronzespyds tynde spidser i gulvplan, under Overvad Hansens performance d. 28/10.
Kun med et egentligt fæstne i bronzestængernes gennemspidning af stålkonstruktionen er figuren på én gang stabil og ude af balance.
På én gang krop og arkitektur.
Denne sammensmeltning af krop og arkitektur ser man ligeledes i nogle af Overvad Hansens tidligere værker. Særligt tydeligt i hendes arbejde med karyatiden – en draperet kvindefigur der optræder som både bærende søjle og udsmykning i antik græsk arkitektur.
Med titlen 'In neutral equilibrium' peger værket på det mellemste af tre stabilitets-stadier, en bærende søjle kan befinde sig i; stadiet mellem stabil og ustabil – i fare for at styrte.