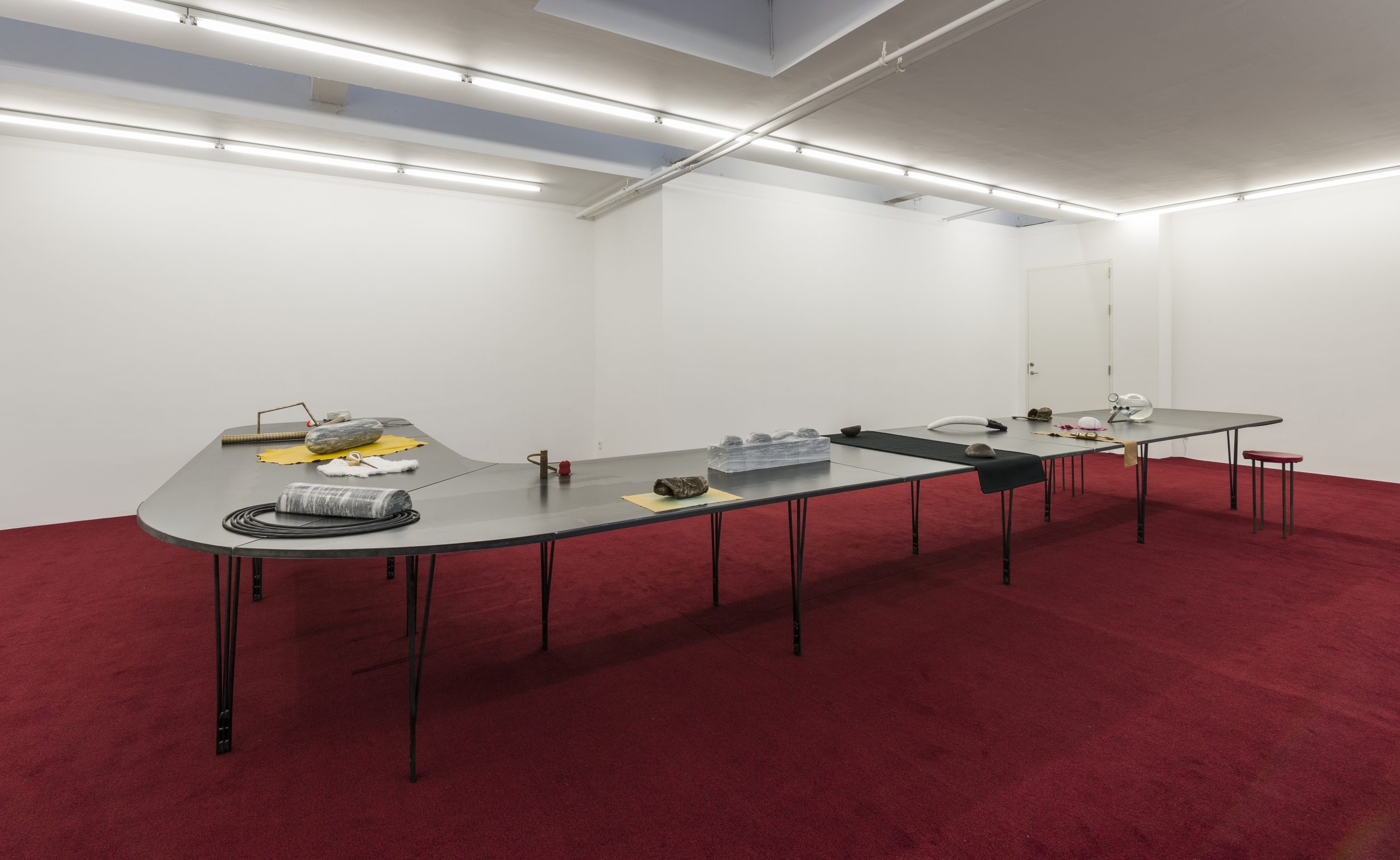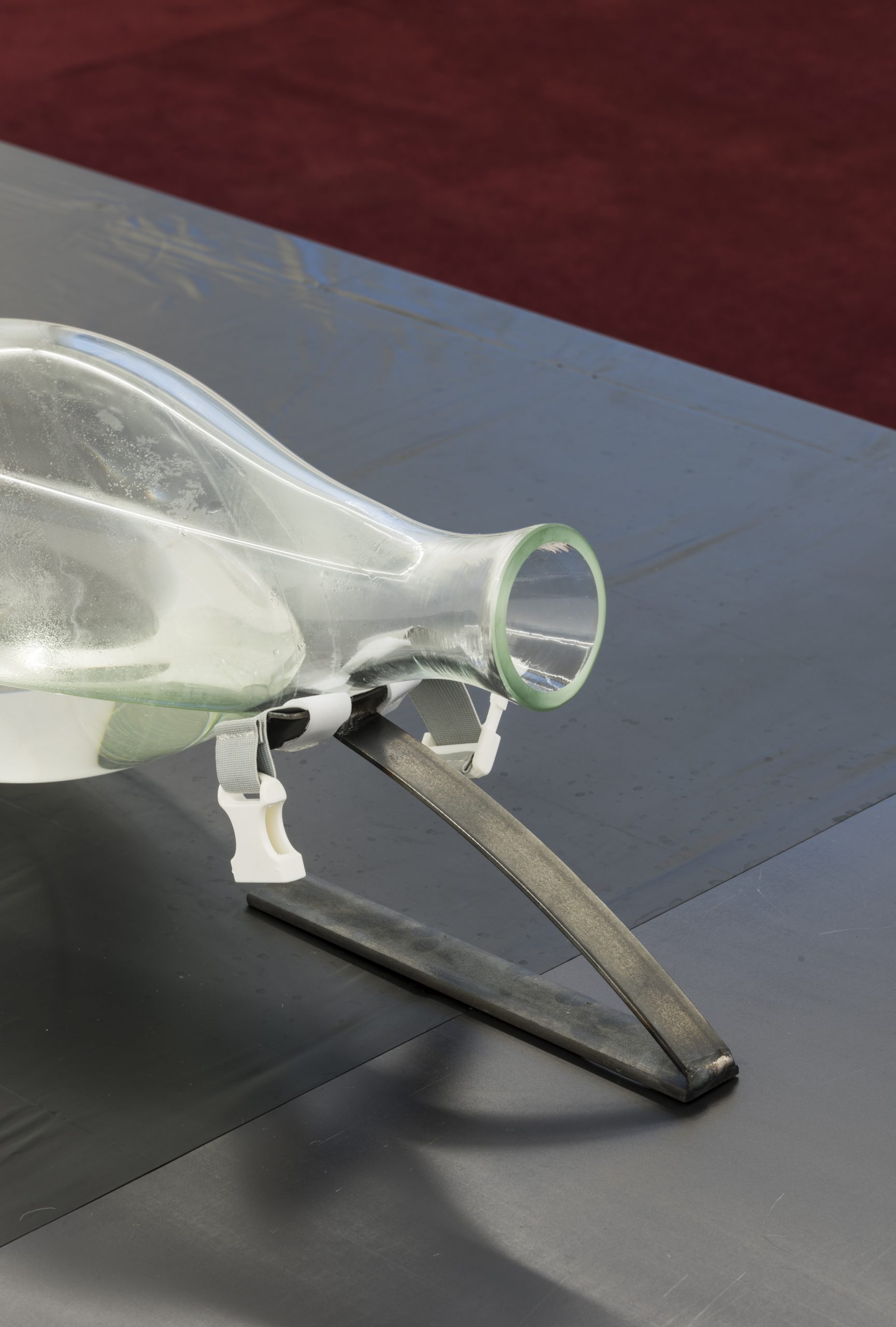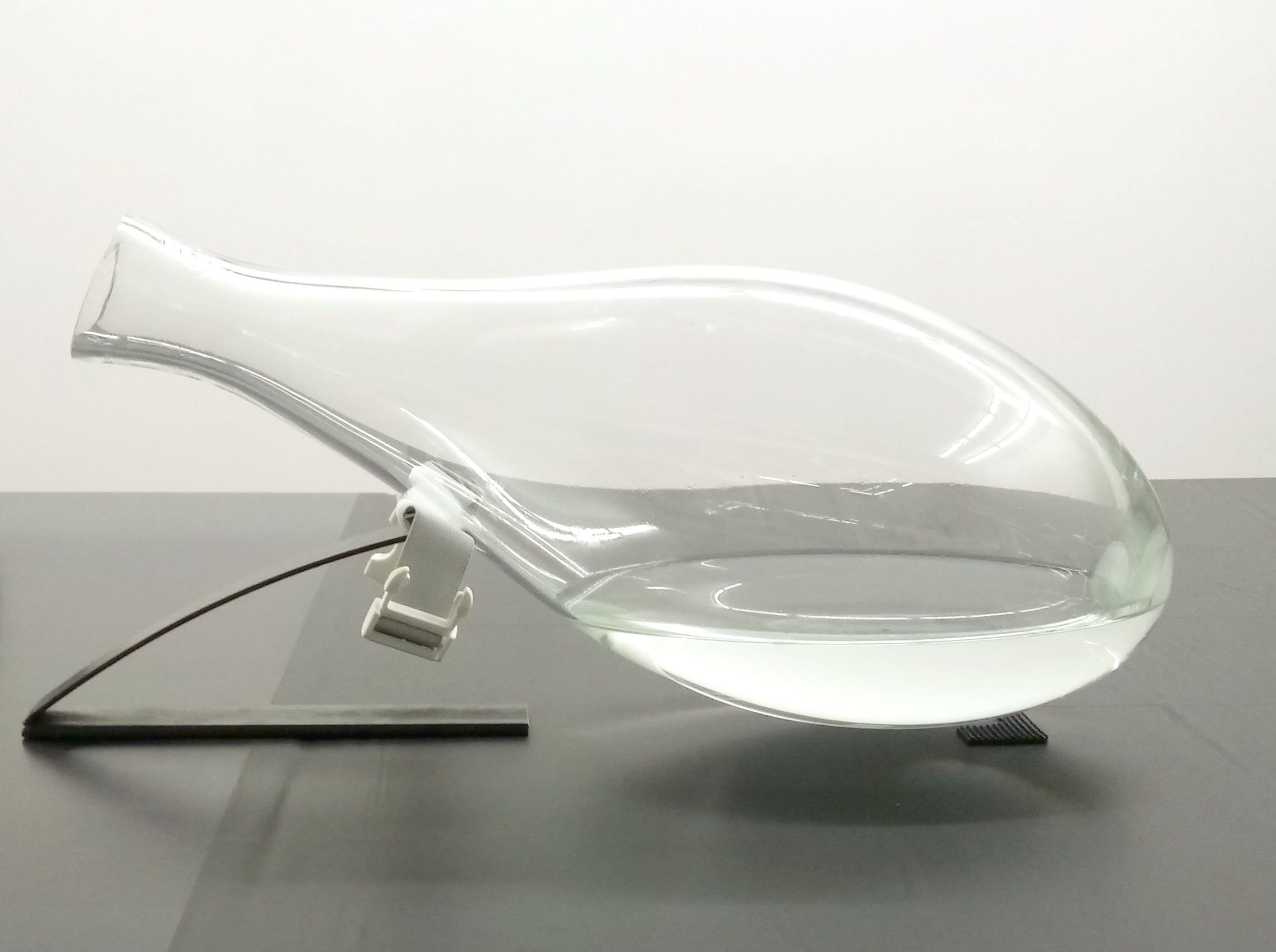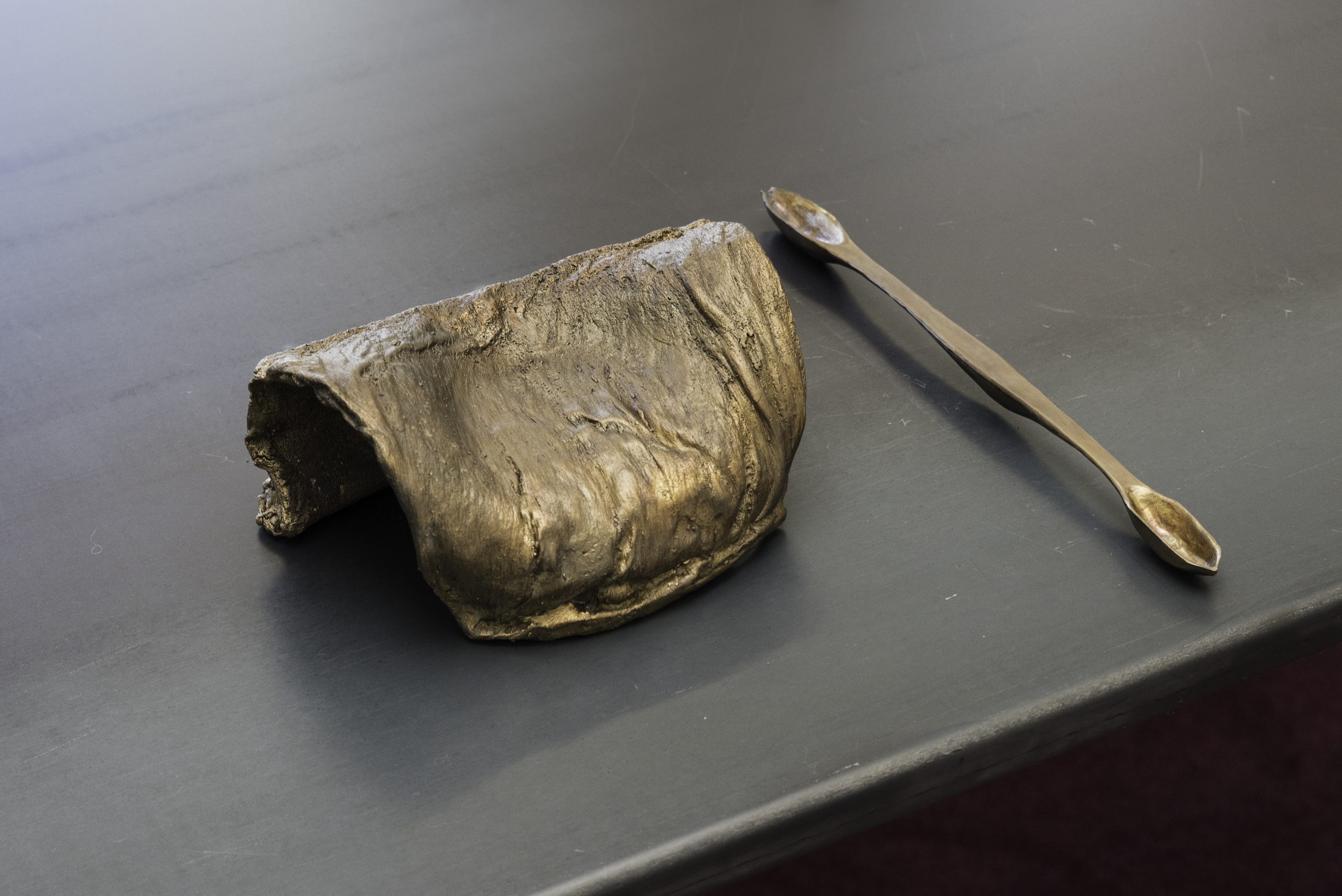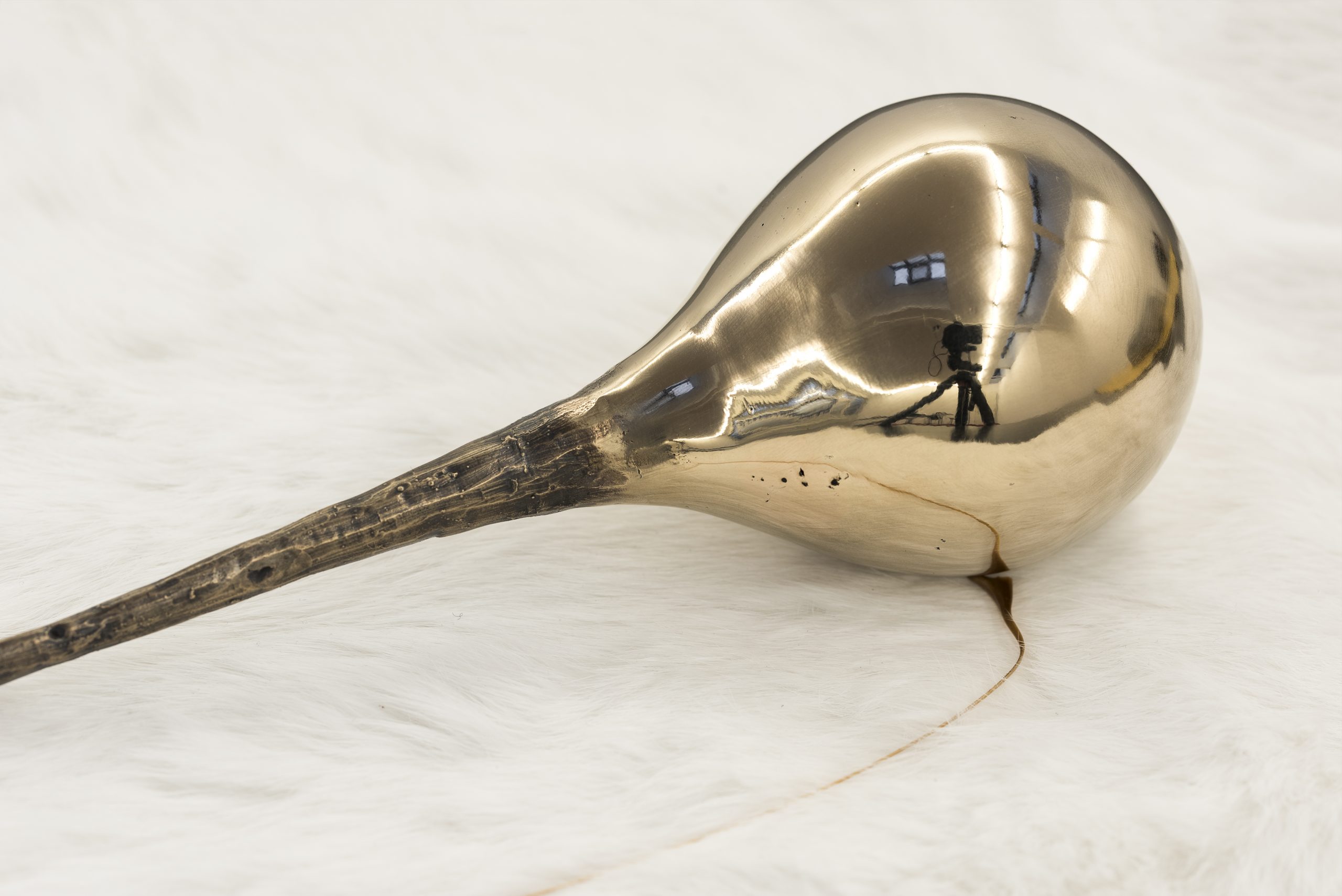 Dinner for Louise, 2017
Duo exhibition with Lea Guldditte Hestelund, Gether Contemporary, Copenhagen, DK

Site-specific installation containing individual works from both Lea Guldditte Hestelund and Christine Overvad Hansen.
Exhibition text by Nanna Stjernholm Jepsen:
Dinner for Louise
Placeret på et bordeauxrødt væg-til-vægtæppe udfylder et bord det meste af udstillingsrummet. Det peger i sin udformning på et klassisk spisebord, dog forvredet i sin tilpasning til rummet. På bordet er der anrettet en række objekter. De besidder en familiaritet; mødet mellem deres materialer og selve objekterne er dragende, men der er sket en ubestemmelig forskydning i deres funktionalitet og genkendelighed. Deres placering i spisebordshøjde bliver en performative gestus, hvor man fornemmer muligheden for at tage plads i scenariet – men hvordan situationen vil udspilles står hen i det uvisse.
På forskellige niveauer peger objekterne på relationen mellem krop og interiør. I samspillet udfolder sig en undersøgende kortlægning af beboelse; af hvad en bolig og hjemmet betyder og implicerer. Iscenesættelsen af de domesticerede pejlemærker i dialog med rækken af skulpturer skaber et sensibelt nærvær og kropsligt engagement manifesteret i den stedsspecifikke arkitektur. Krop og interiør er smeltet sammen i en genskrivning af det domesticerede rum og dets stereotype associering med det feminine. Det handlingsmættede middagstableau forskyder det objektiviserende blik på kvindekroppen. Hun er fjernet som passiv repræsentation og er i stedet tilstede som aktør i værker som Headrest for a clubwidow, Pêche Melba eller The cuddler. Her tager hver af de små skulpturer på én gang del i et samlet narrativ, men de udspiller sig ligeledes som parallelle, enkeltstående fortællinger eller situationer.
Som en bevægelse, der strømmer gennem objekterne, skaber overfladerne en intimitet og spænding objekterne imellem. En intimitet, der næres af ophobningen af de forskellige materialiteter og den fælles krop, som skulpturerne tilsammen udgør. Det glatpolerede marmors møde med latex og gummi, eller bronzens højpolerede eller minutiøst bearbejdede overflade bliver et greb i genskrivningen af relationen mellem det feminine og det domesticerede rum. Det objektfokuserede begær forsøges ophævet; det flyttes til en materiel og overfladenær intimitet i en topografisk kortlægning af den materialiserede intimitet, begær og erotik, som Dinner for Louise vibrerer af.
Nanna Stjernholm Jepsen